It has been a month since Stitch Up Chicago 2018 and I am still feeling all the warm fuzzies from so much fiber awesome. As we enter into spring I thought why not carry that fiber love on with a giveaway! So read on about our event prizes, our sponsors and enter to win one of the Swag Bags from Stitch Up Chicago along with some other extra special treats below.
Anyone who knows me knows that I am a giver by nature, my pastor says it is my Love Language. So I am always excited when amazing artisans, small businesses and big businesses want to join in the giving and help make the Stitch Up Chicago prizes so awesome. This year's grand raffle prize had me wishing I could enter to win. Maybe I should have bought a few tickets!
We did the grand prize drawing on the last day just as we started the yarn bomb party with London Kaye. And of course, London got to pull the winning ticket. It was super fun because with a raffle you just never know.
I love that suspense. You can click through this slide show and catch the whole play by play. Our photographer Hannah Schweiss captured EVERY MOMENT of this awesomeness.
The grand prize... ok guys.... UM YEAH! It featured delights from each of these incredible contributors and the handmade wall hanging from The River Haze Shop was surely a fan favorite!
THANK YOU SO MUCH TO OUR
Grand Prize contributors: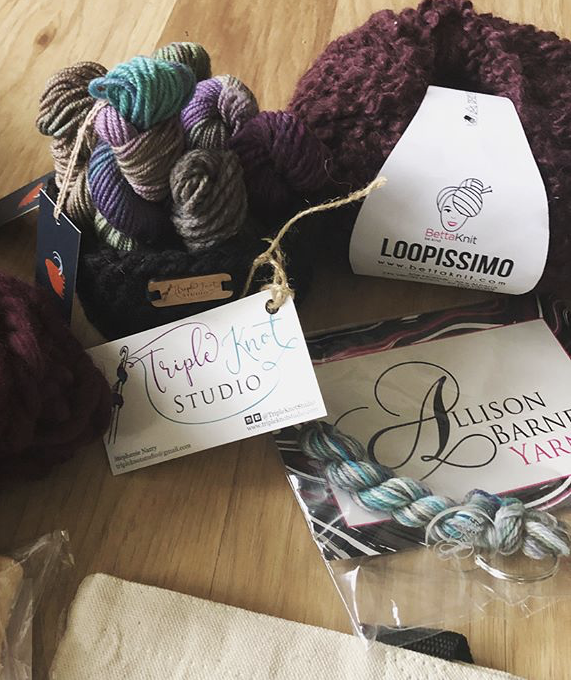 And since not everyone can win the grand prize, we put together incredible swag bags with the generosity of so many makers and fiber businesses so everyone left with some major fiber treats.
SO WE SEND OUT A BIG THANK YOU & HUGE SHOUT OUT TO ALL
Stitch Up Chicago Sponsors. Could not have done it without them.
And now YOU can enter to win not only one of the Stitch Up Chicago Swag Bags, but an amazing Artisan Spring Prize Pack including a knitting hat pattern from Yessy Designs, a crochet top pattern from Evelyn & Peter, a pair of sea shell socks made by the sock master himself, Rohn Strong, a super fun summer clutch purse from Tea Pray Crochet, a yarn mug AND $25 gift card from Yarn Mamas, a Lakeside Cardigan from CoCo Crochet Lee, a hand crochet cactus from Triple Knot Studio and an amazing set of hooks and notions.
UM... YES THIS IS THE ULTIMATE!!!!!!!

So click all the sponsor links to show them love and check them out then enter below!