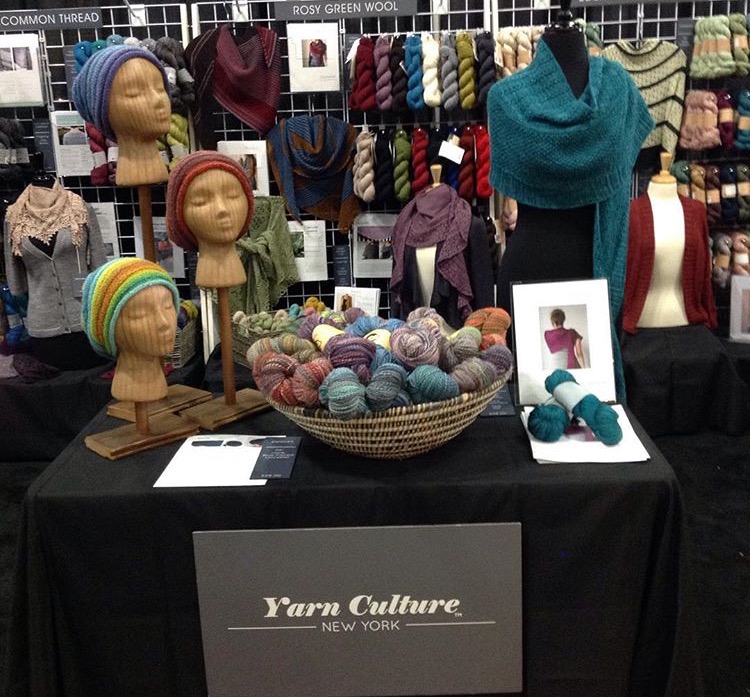 I love discovering new yarn and new artists. So when it's a double header in the form of an indie yarn dyer - well happy dances happen!
Last year, while visiting Stitches Midwest, I met Patti who owns Yarn Culture New York. Now let me tell you; Patti has some amazing fiber offerings and if she is ever at an event in your area I cannot convey enough to check her out. Follow her on IG for event appearances. I wanted to put her whole booth in my bag to go home (and may have even tried).
But another bonus was that Patti turned me on to Amor and her Crave Yarn. Um hello most excellent yummy fibers that I must become one with. Legit awesomeness. Not just the yarns, which are high quality, but her colors are magnificent. I was in love. IN LOVE!
As I got to know Amor and her work I fell more and more in love with her colorways. True, I was a bit sad she doesn't offer my fave chunky fibers but we handled that.
We decided to do a special limited edition collaboration with a chunky base. Keeping the amazing blue steel colors I fell in love with at first and using an incredible 100% alpaca chunky base, Amor created a fiber that I can only describe as divine. It was a dream to work up.
I immediately knew I wanted to create a design that was as flowing and dreamy as this yarn. The way the swatch draped and hung, it was clear a wrap would be perfect. Not your average chunky yarn. This chunky alpaca hangs like DK weight silk. CAN YOU STAND IT? It blew me away.
I am a Pisces and ocean lover and knew it would be all about the wave to go with the flow of this fiber. I started thinking of waves crashing upon the shore. And The Every Wave Wrap was born. It came together perfectly and I am madly in love with it. It is a scarf, a wrap, a shawl. It is what you need it to be and ideal for transitional weather.
Amor and I decided we had to share this fiber with the rest of the world. So we decided to turn these into Kits! We are offering these kits in LIMITED EDITION! So when they are gone, they are gone. You will get all the yummy yarn you need to make the Every Wave Wrap (4 skeins of hand dyed 100% alpaca), the hook, pattern, button, notions and a fun project bag. Um YEAH! You can purchase your Limited Edition Every Wave Kit here.
And as an incredibly special celebration of this Limited Edition Kit, we are giving one away. WHAT? YES - GIVING ONE AWAY!

We even teamed up with Natasha from the Amazing Hook Ewe shop to include a custom made ergonomic crochet hook. I have been such a fan of Natasha's work for so long as it scrolls across my Instagram feed that I was thrilled she wanted to join this giveaway. Her handmade ergonomic hooks are not only functional but true works of art. She has made one to match the colors of the Every Wave Wrap.
Do NOT miss out. Enter below!
And get out there and discover some new yarns :-)
Disclosure: Crave Yarn sent me the yarn for this giveaway & collaboration free of charge. Although this is sponsored content, opinions and review content are completely my own.